Main location
Southern Sweden Design Days has a 'Main location' – Lokstallarna in Kirseberg, Malmö.
Main location functions as a connecting point and venue for exhibitions and a studio with seminars, panel discussions and screenings in front of an audience.
Lokstallarna in Kirseberg has a strong personality and history. In the 1930s, the old railway workshops were Malmö's second largest workplace. Today, the local premises have been given a new life and serves as a vibrant culture and craft center.
Exhibit at Main location
At Main location a limited number of selected larger exhibitions that relate to the 2023 theme "Dissonance" will take place. The exhibitions will be chosen by a panel. The minimum exhibition area is 50 m² indoors and 25 m² outdoors. The desired area is specified in the application. Allocated area will be announced upon confirmation of participation at Lokstallarna.
Prices and practical information
Get practical information about Main location before you submit your application. Read more here!
Download our Main Location pdf here.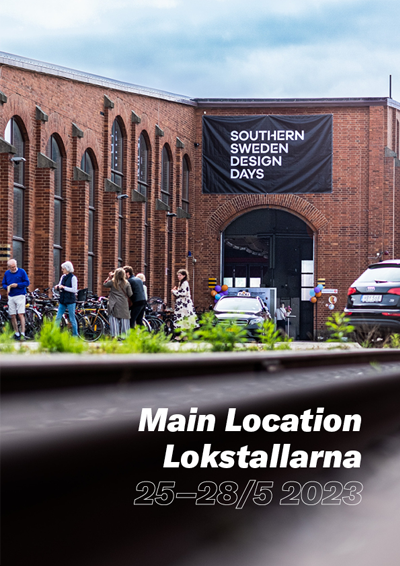 Step 1: Application SSDD 2023
Register your program activity for Southern Sweden Design Days no later than 16 January. Indicate your interest in exhibiting at Main location in the registration. 
Step 2: Application Main location
Apply to exhibit at Main location no later than 31 January. Selected exhibitions will be announced by 17 February. If your exhibition is not selected, we encourage you to find another location for your exhibition. If you can't find a location, it's possible to cancel your program activity and no registration fee will be charged.
SSDD Studio
On site in Lokstallarna, visitors will also be able to attend panel discussions, seminars workshops and screenings in SSDD Studio. The program will also be broadcast live during the event days via southernswedendesigndays.com.